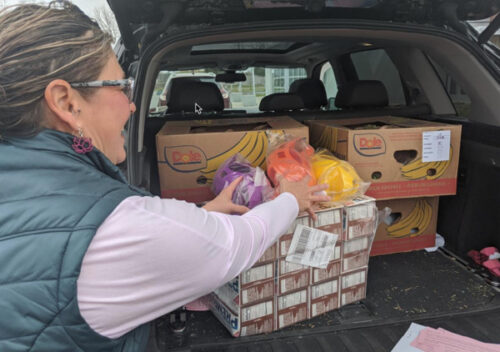 The Seneca Falls Development Corp Donates Sports Activity Equipment in Support of Local Food Distribution Efforts

The Seneca Falls Development Corporation recently donated over 200 outdoor play toys from its Team Active8 youth program to the food distribution efforts of the Seneca Falls Central School District and the Seneca Falls Backpack Program.

Team Active8, started by the SFDC in 2018 with funding from the Ralph C. Wilson Legacy Fund for Youth Sports, was developed to help encourage activity in children and provide fun introductions to mainstream sports regardless of athletic ability.

"As our pilot program winds to a close, we felt the current climate presented a fantastic opportunity to get this equipment into the hands of our local youth," said SFDC Director, Greg Zellers. "We want to thank the tireless volunteers who added these toys to their distribution routes. It absolutely couldn't have happened without them."

Scoop Ball sets, jump ropes, and flying discs were among the first batch of toys to be distributed, and additional toys and play equipment is scheduled to be donated to the same organizations in mid-April.

"With social distancing being widely practiced and encouraged, we wanted a way for kids to stay active," added SFDC Board Chair, Joell Murney-Karsten. "We felt there was no better time to make sure this play equipment is used by the youth our program was intended to serve."

More information about the Team Active8 program can be found online at www.teamactive8.com, where any future program dates will also be added.